Trixie Chicks Trick Riding Clinic (Missouri Clinic #1)
30apr01mayTrixie Chicks Trick Riding Clinic (Missouri Clinic #1)1st Time, Beginner, Intermediate, & Advanced Trick Riding Students Welcome!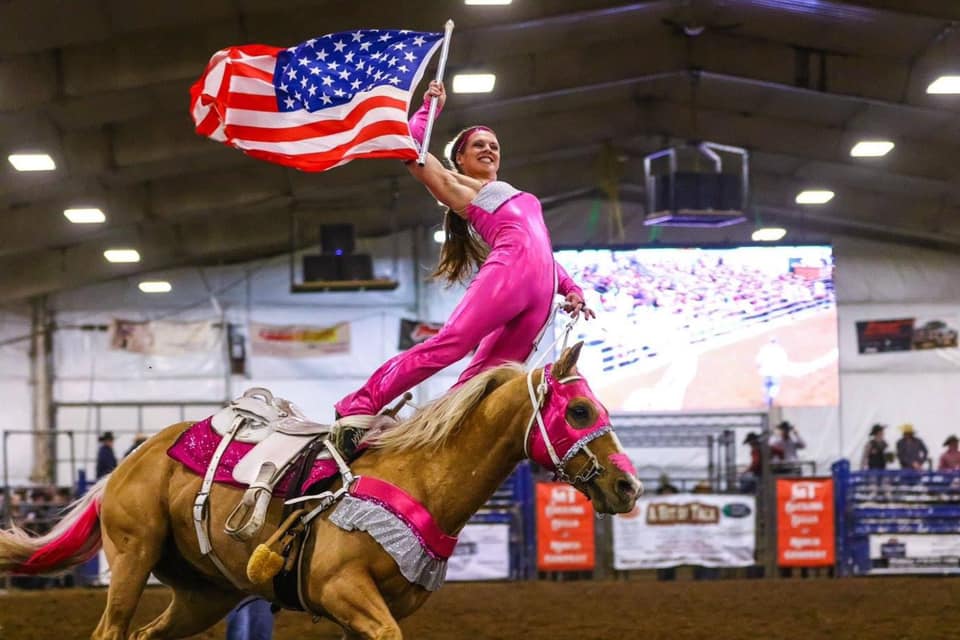 Event Details

April 30th – May 1st, 2022

Clinic Cost:

$300/Day/Rider

$50/Day For Horse & Trick Riding Saddle Rental (If Needed)

Clinic Time:

9am – 3pm Daily With 1-Hour Break For Lunch — We usually get a group and drive to eat together. Feel free to bring your own lunch if you prefer not to do that. My sponsored riders are practicing before/after clinics each day so please don't be alarmed if you see horses in the arena working when you arrive.

Location: 

Sunset Ranch And Barn

2380 State Rd MM

New Bloomfield, MO 65063

*NO DOGS ALLOWED*

Horse Accommodations:

$15/Night/Horse For Stall (Paid To Facility) – ***Must Strip Stalls Prior To Leaving***

Camp Out Is $20/Night

***Must CONTACT ARENA In ADVANCE To Reserve: Gayle Owen 573-826-8816***

*Recommendations For Our Clinics:

-Minimum Age: Varies Based On Maturity, Physical Capabilities, & Horsemanship

-No Trick Riding Experience Is Needed, But You Must At Least Know Basic Horsemanship.

-We Welcome All Levels Of Trick Riding Students For Clinics (From 1st Day Students To Elite Professionals Looking To Take Their Abilities To The Next Level).

-All Students Will Be Required To Wear Them Unless An Equine Helmet Waiver Of Liability Has Been Signed.

-Liability Waivers Must Be Submitted Prior To Participating In Any Clinic.

-Attire: Athletic Clothes (Long Sleeves, Short Sleeves, Yoga Pants, Etc.), Longer Socks To Protect Ankles, Dress In Layers-Footwear: Wrestling Shoes (No Thick Soles. You Need To Be Able To Point And Flex Your Foot)

-ALL Long Hair Must Be Fastened Back For Safety.

-Please Bring Chapstick, Sunscreen, And Allergy Medication (*If You Have Allergies…This Is Missouri!!).

-Physical Fitness Recommendation: 20-30 Push-ups And/Or Pull-ups, 50 Sit-ups, & Stretching For Flexibility

more
Time

April 30 (Saturday) 9:00 am - May 1 (Sunday) 3:00 pm
Location

Sunset Ranch & Barn

2380 State Road, New Bloomfield, MO 65063
Choose Your Tickets
Tickets are not available for sale any more for this event!