You deserve to enjoy your horse passion.
Horse owners, I know you're out there, day-after-day trying to enjoy your time with your beloved animals.
You're putting in the hours. Hiring trainers. Doing your groundwork. Lunging them until they cooperate.
But you're tired of feeling insecure every time you get on.
You might be wondering if this horse "passion" is even worth all the pain. Frustration. All the mud. The falls. The bucks. The tears. Bite marks. Refusals. Underperformance. Ruined trail rides. Anxious feelings. Losses. And crazy money spent.
I have good news. It is worth it! And, it doesn't have to be filled with pain.
I'm Michael Gascon, and I'm so glad you're here.
HOW CAN I HELP YOU SIMPLIFY WORKING WITH YOUR HORSE?
HOW GASCON HORSEMANSHIP IS HELPING HUMANS + HORSES BECOME PARTNERS
Michael's videos and easy-to-follow, step-by-step how-to, have in a short time, done wonders for the both myself and Hunter. I now have total confidence in handling any situation that comes up.
~ Ron J.
Micheal met all expectations as our trainer. Magnolia is now safe for all ages and level of rider. I can ride her without anxiety or hesitation that I had before she was trained. Most of all, my 77-year-old Dad can ride Magnolia safely during parades which made him and I very happy.
~ Becky F.
We were at the Troy Il clinic. After getting back and signing up as a member of Team MG we are making leaps and bounds of progress. My daughter's Saddlebred even went on his very first trail ride with no rearing. We both can't wait to keep progressing. THANK YOU!
~ Barbara T.
I didn't know what to expect at the clinic, but I was determined to do it and make it work because I had a great horse when I purchased him three years ago. After two jam-packed days of watching, learning, and doing with plenty of personal instruction, including one-on-one, I finally found what I had lost three years ago. Thanks, Michael, you are truly The Horse Guru.
~ Sidney G.
I attended a clinic last year and speak from personal one-on-one experience with Michael. He is an excellent trainer of horses and people. So patient and kind. I, as most horse people do, try to make things more complicated with horses than they need to be. Michael takes the time and simplifies the process.
~ Kristine P.
ACCESS MY TRAINING TOOLS ANYWHERE, ANYTIME
TEAM MG MEMBERSHIP GIVES YOU INSTANT ACCESS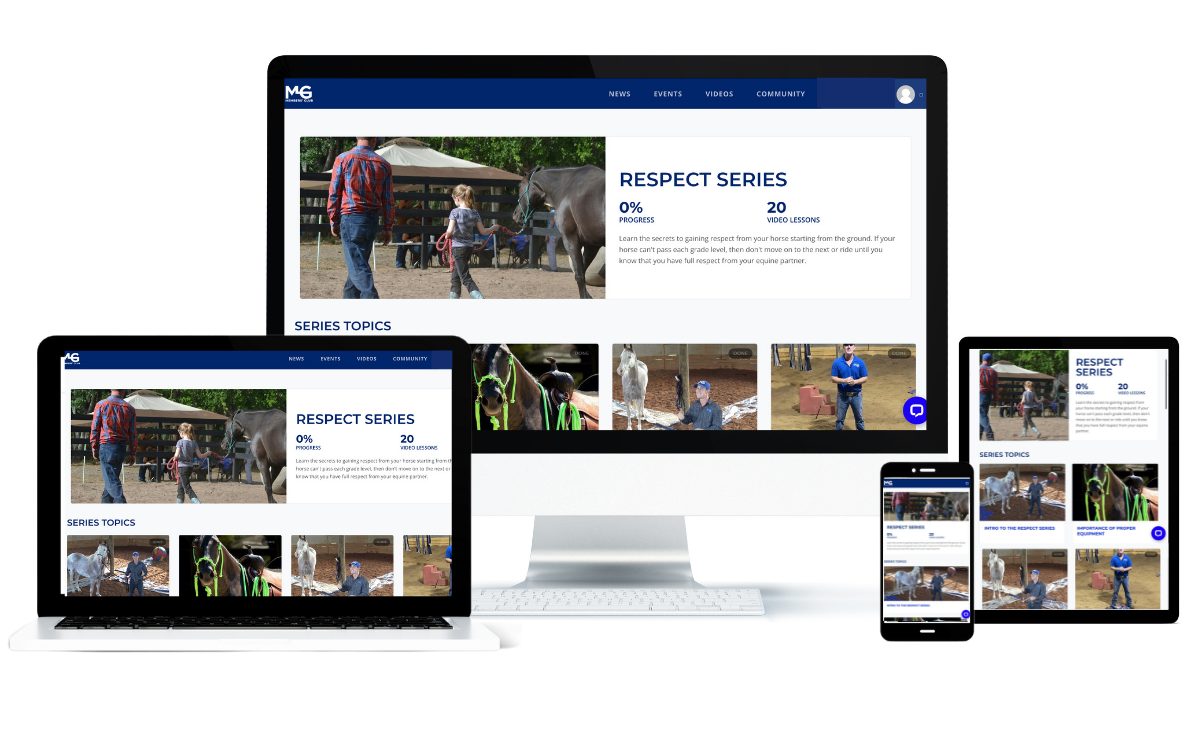 With instant access to training videos teaching you the Gascon Horsemanship methods along with a helpful online community and access to the Gascon Horsemanship team, you'll have what you need to build your confidence and your bond with your horse.
As a member of Team MG, you will learn to speak the language of the horse so you can communicate with horses of any breed, age, or problem and get real results!