Day Hour Minute Second
YOUR COURSE ENROLLMENT: $997
YOUR COURSE ENROLLMENT: $97 (Special rate – ENDING SOON!)
Horse Help Course
Train your horse to be a safe, reliable partner so you can have fun together
and actually enjoy your horsemanship journey
enroll today!
Does this sound familiar?
Trying to wear down your horse so he'll listen is actually wearing you out before you ever step foot in the saddle.
You bought a rescue horse only to realize someone needs to rescue you when you get nervous and he gets pushy and unruly.
The typical 'Natural Horsemanship' methods have left you and your horse feeling more confused than understanding one another.
You're ready to fulfill your dream of training your own horse but you aren't sure where to start.
Is it a yes? Then Horse Help Course is for YOU!
enroll today!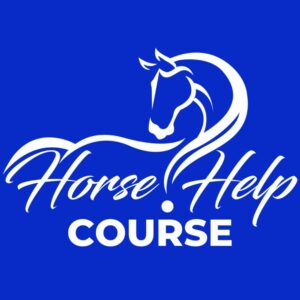 Horse Help Course is a 6-week online training program that will teach you my proven 12-step process to train your own horse to be a safe and reliable partner so you can have fun together!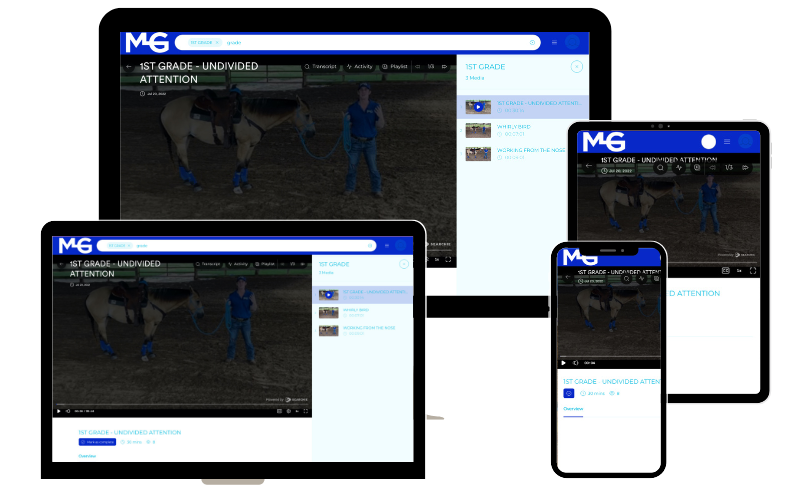 In-Depth Video Training
I'll walk you step-by-step through the entire foundation of my horse training process. You'll  watch the videos in an easy-to-navigate online portal. (I promise, even if tech isn't your favorite, you'll love how easy it is to use!)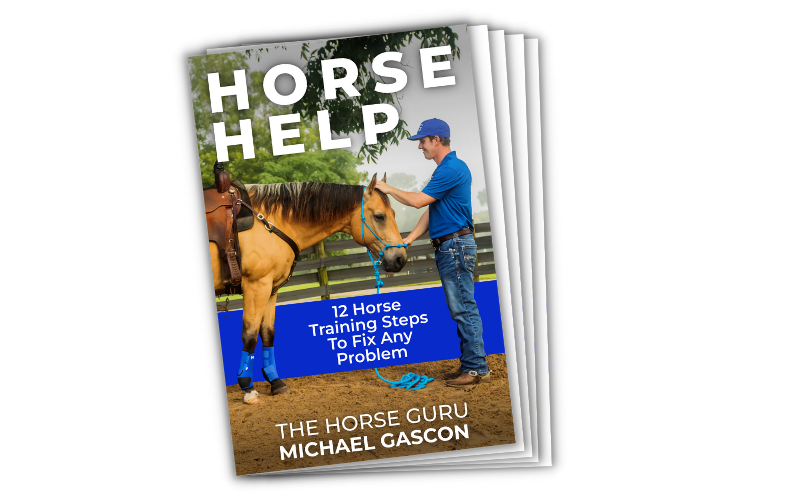 Course Workbook
Not only do you get a video breakdown of me teaching each step, you'll also get a workbook! That means you can put down your pen and focus on learning. Plus, you can take your workbook to the round pen with you for easy reference!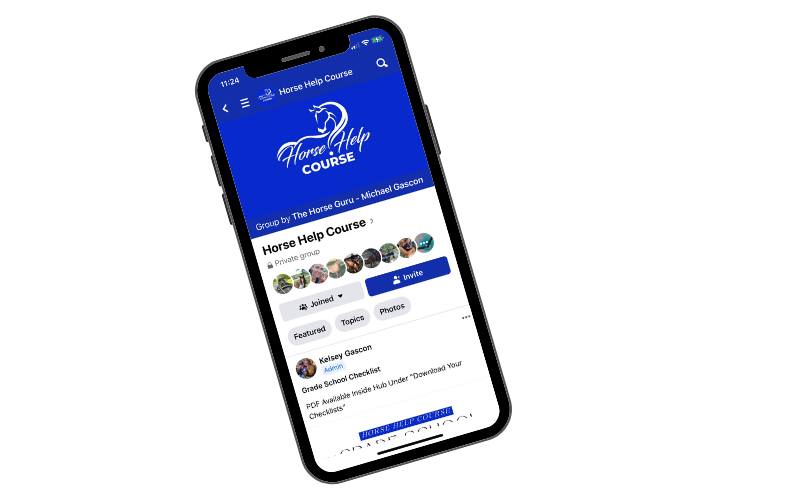 Supportive Community
I have an AMAZING support network for you inside of my Horse Help Course Facebook community! You'll get support and cheers from riders and trainers just like you-in other words, you are not in this alone. 
enroll today!
No Matter Your Age or Stage, The Horse Help Course Will Work For You
Here's what's possible when you take action and apply my 12-step method to your horse training process …
*News Flash*
You can gain your horse's respect without wearing your horse down
In other words, you do NOT have to get your horse all hot and tired in order to teach him!
As a 5th generation horse trainer, I grew up on the back of one of the hottest breeds in the world (raising, training, and winning over 50 National Championships with Paso Finos). I had to find a way to train these hot horses that didn't follow the typical "Natural Horsemanship" methods. Why?
If you tried to lunge Paso Finos to get them tired or get their attention, they would keep going for hours-and basically laugh at you for thinking they'd get tired!
Instead, I learned that in order to train any horse well you need to be willing to listen.
Your horse will tell you anything. You just have to ask.
How do you know the right questions to ask? And, how do you know how to ask the right questions?
That's what I'll teach you in Horse Help Course!
When you follow my 12-step process for training ANY horse-no matter the breed, size, or discipline-your horse will learn to:
RespectYour Space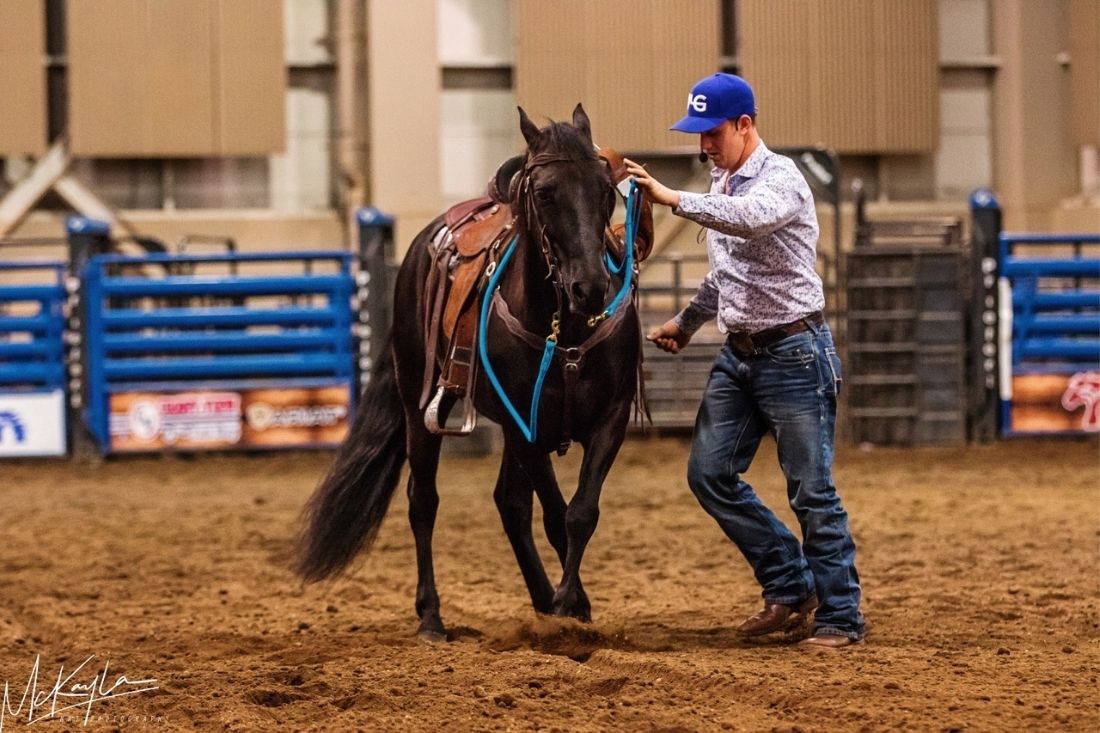 Respond toYour Cues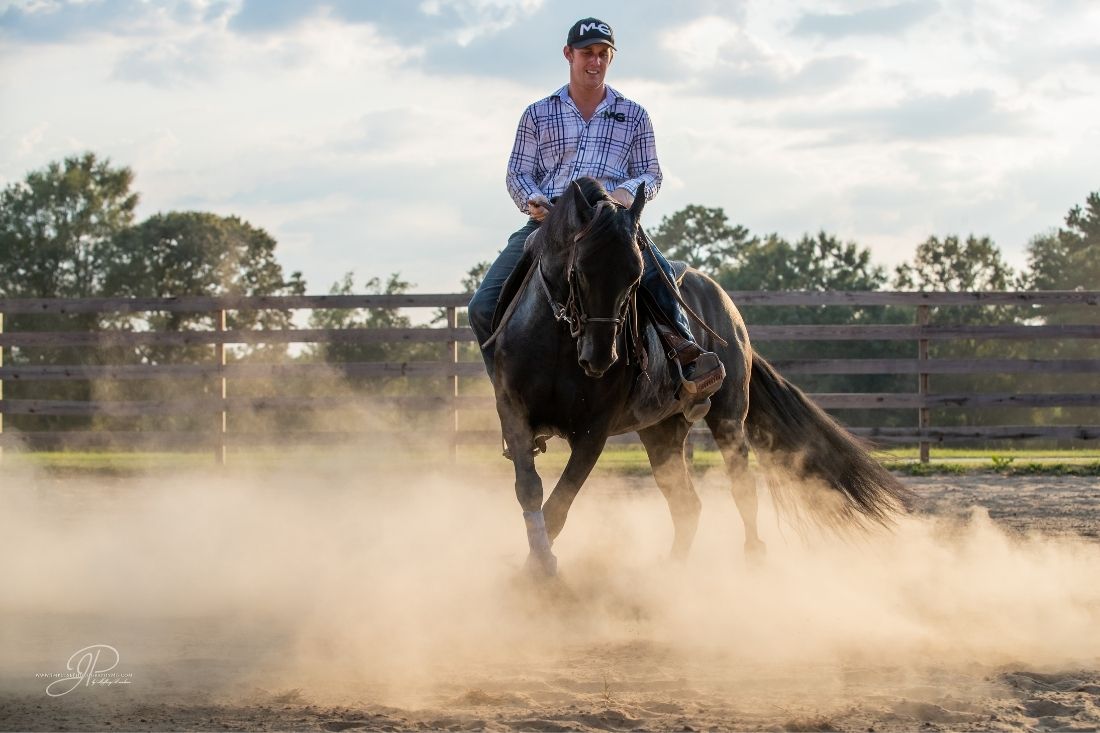 RegulateEmotions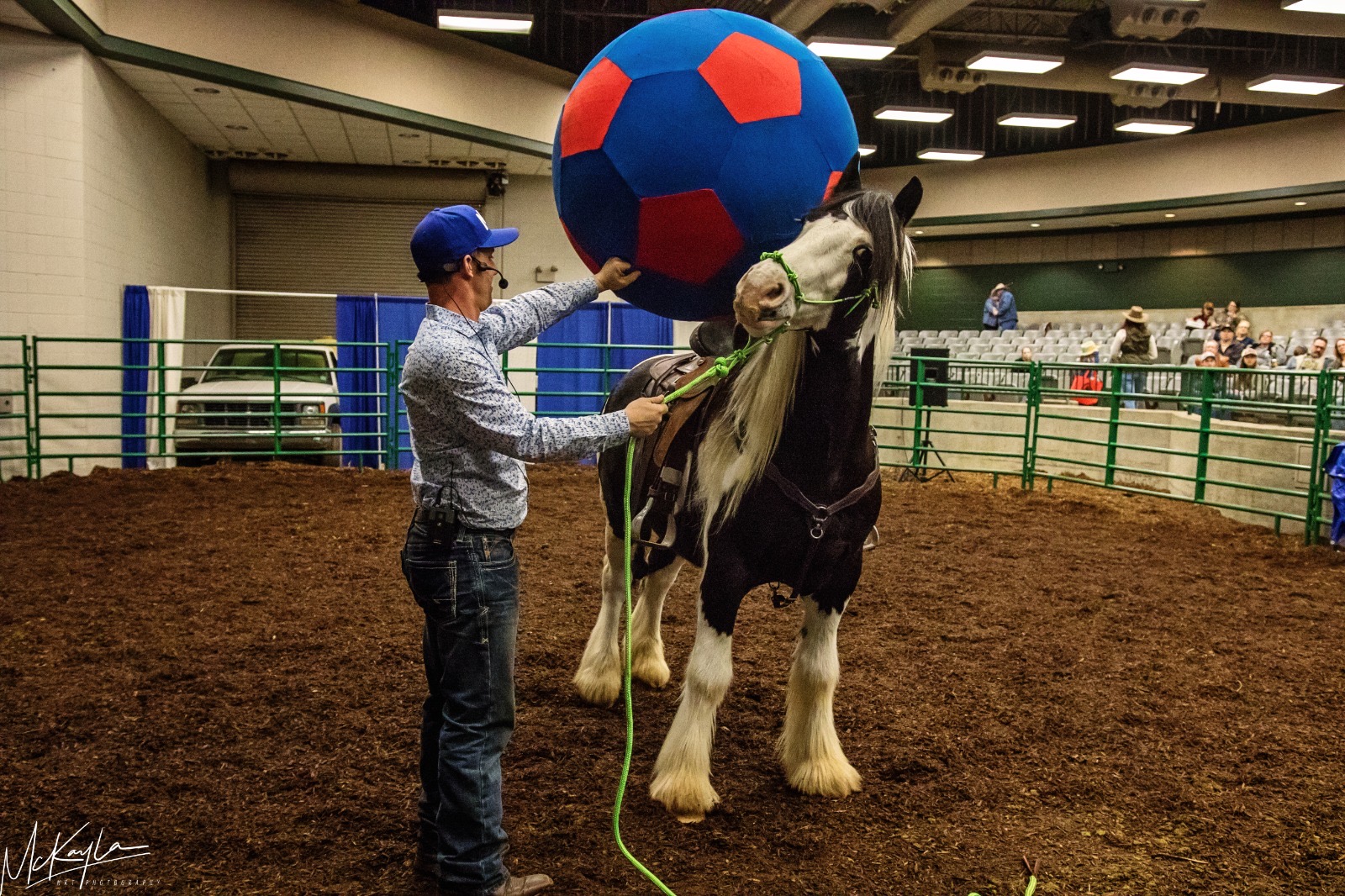 enroll today!
It Works! The Proof Is In the Pudding
(AKA These Horse & Owner Stories)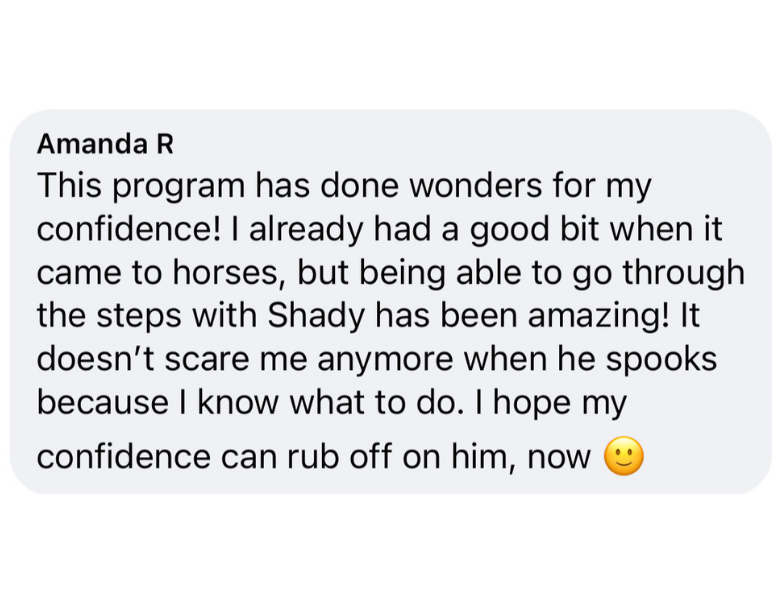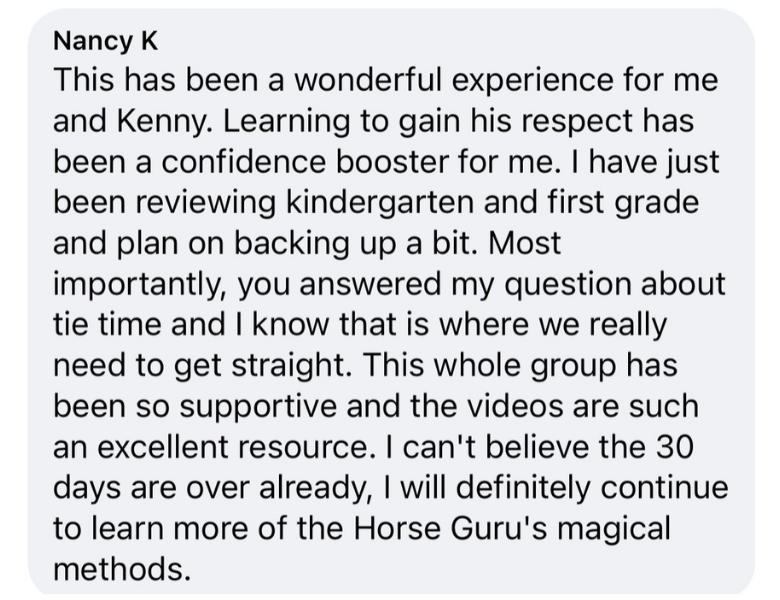 Is the Horse Help Course for You?
Tell me if this sounds like you …
You dream of riding effortlessly over obstacles and enjoying a nice trail ride without the drama of "arguing" with your horse.
You used to love riding horses until "that one time." You're ready to get back in the saddle and want someone to give you a proven process that'll help you be both safe AND confident again!
You'd love to get your horse to be calm or stand still no matter what's going on. (Bring on the surprise animal visitors on the trail!)
You're tired of feeling insecure and out of control with your horse.
You spent years on the sidelines cheering on your kids, friends, and family with their horse dreams. Now, it's your turn to make your horse dreams come true.
You want to be a cool, calm, and confident leader for your horse.
If you're finished with being frustrated and you want to ENJOY your horse, the Horse Help Course is for you.
Your frustration ends where your knowledge begins.
(AKA when you start applying what you'll learn in the Horse Help Course!)
enroll today!
Hear From Horse Owners Just Like You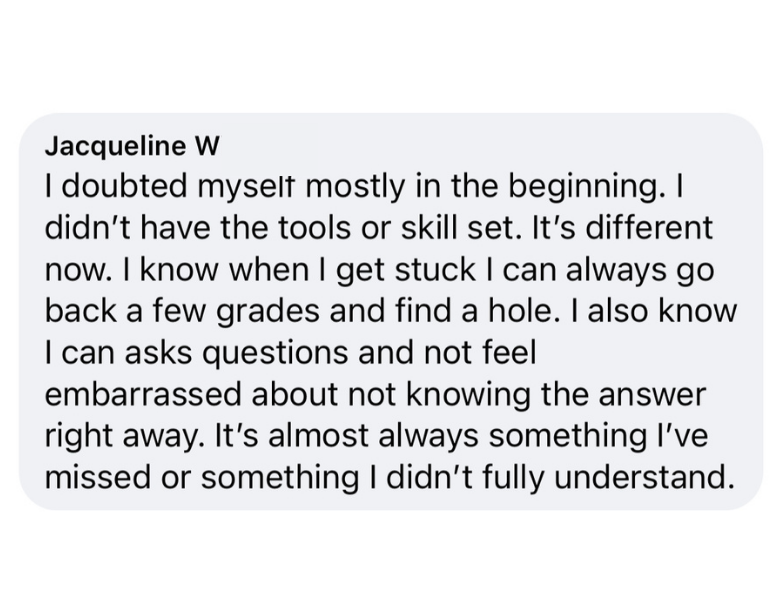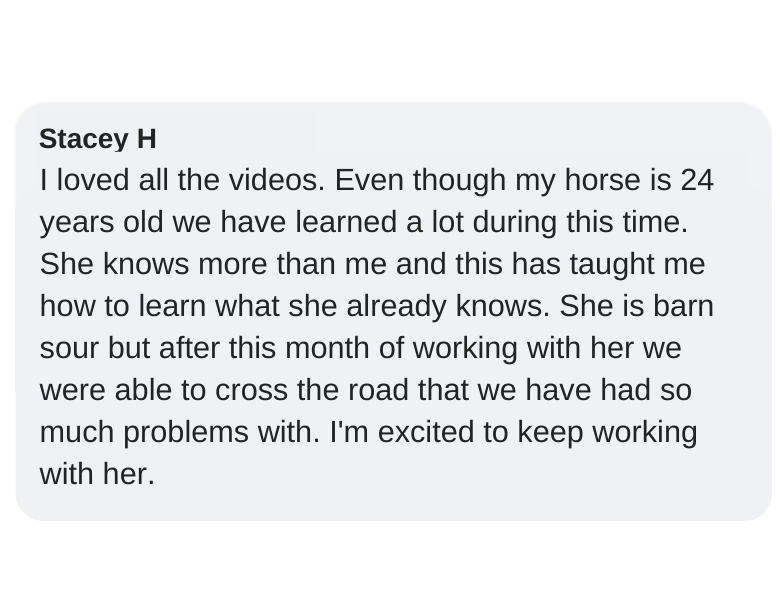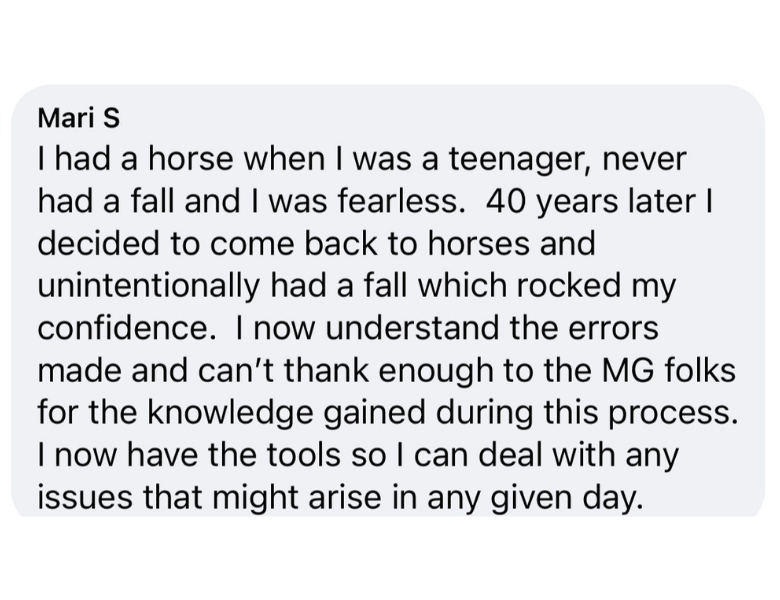 How Does the 12-Step Process Work?
Your horse will be the student and you're the teacher, taking him from Preschool to 12th grade.
ALL horses start at Preschool, or Kindergarten if you don't have access to a round pen, no matter the age, breed, or experience level.
You'll learn what's expected in order for your horse to pass each grade level. If they PASS it, not perfect it, then you move on to the next grade level.
If (or when) they fail a grade level, you'll fix that grade before moving on to the next step.
When you follow these 12 steps:
You know exactly where your horse is at in his/her training.
You get to the root of the problem instead of trying to fix a symptom of the real problem.
You know your horse is safe and ready to ride BEFORE swinging your leg into the saddle.
Your confidence skyrockets because you know what to do, when to do it, and (most importantly) how to do it safely!
Whether your horse is green broke, completely wild and untouched, or has been a lesson horse for 20 years, this process works!
enroll today!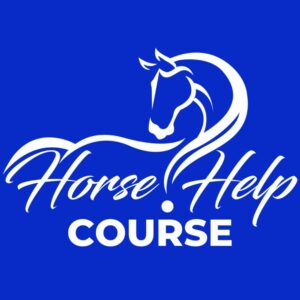 What's Included When You Enroll In The Horse Help Course?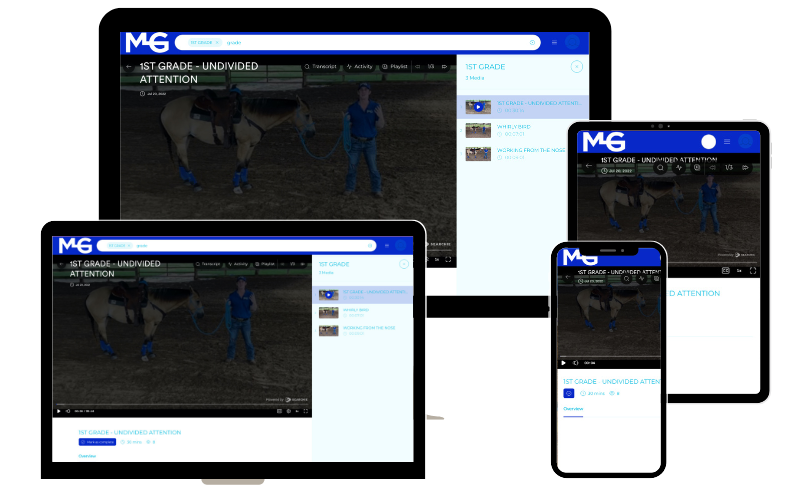 Step-by-Step Training Videos
(With LIFETIME Access!)
With at least one video (sometimes more!) for each of the 12 grade levels (+ Pre-K & Kindergarten), I'll show you exactly what to do so you can take your horse through each grade on your own.
So that you can watch the videos anywhere (even in the barn), the course is easily accessible from your phone, table, or computer!
Value:  $4,997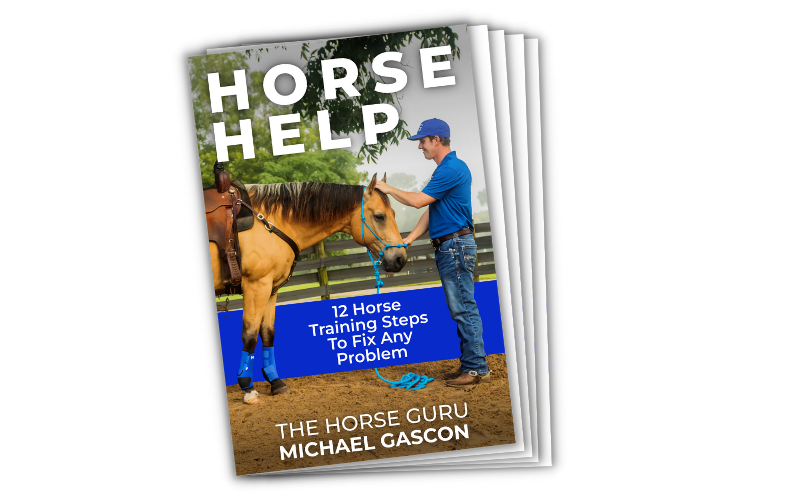 Course Workbook
In this easy-to-navigate downloadable workbook PDF, you'll get a breakdown of what's in each of the grade levels in your workbook so you can follow along as I'm teaching.
No need to worry about taking detailed notes-I've got you covered!
Value:  $1,797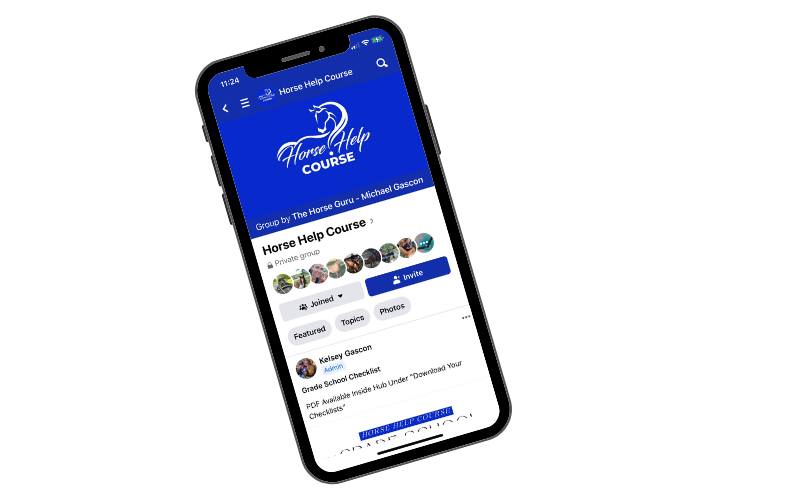 Support From Our Community
You will never feel alone again, my friend. Throughout the 6-week course, you'll have access to and constant support (AKA cheerleading) from our private Horse Help Course FB community!
Plus, when you have a question, my in-house support team will make sure you get the answer or know exactly where to go for your answer inside the course.
Value:  Priceless!
PLUS These Amazing Bonuses!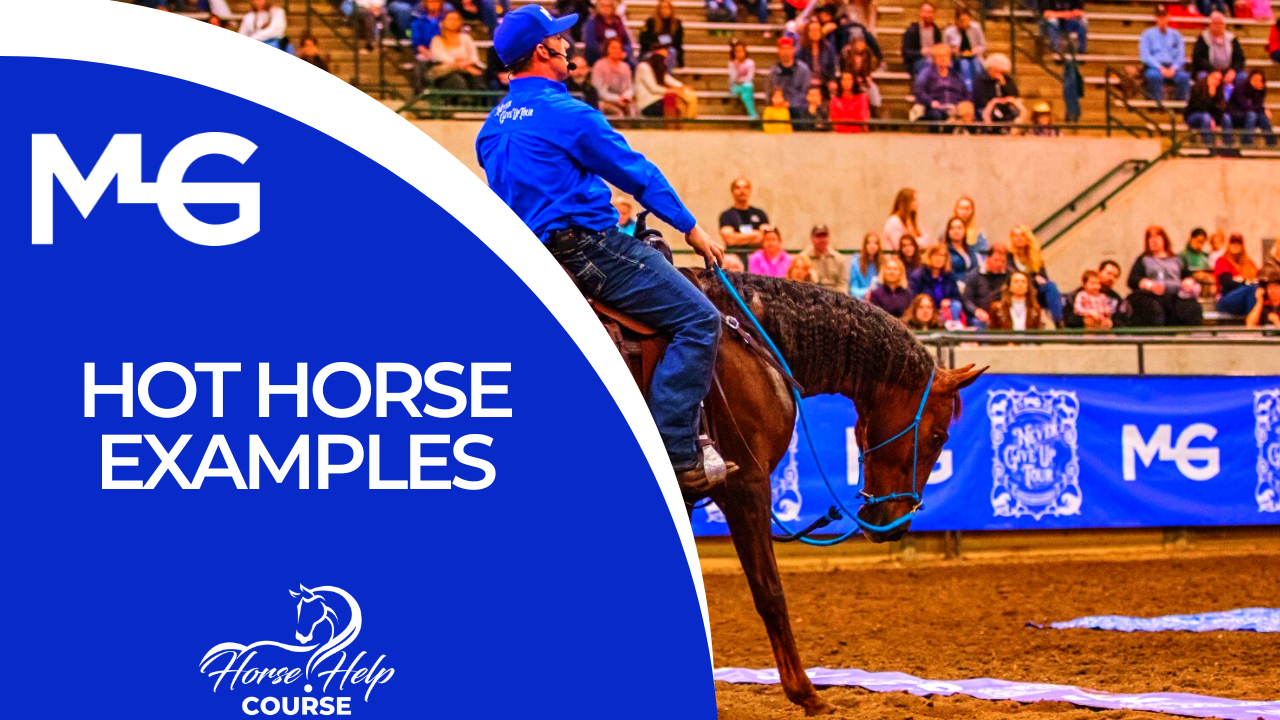 Watch A HOT Horse Go Through Each Grade
You get to watch me take a HOT horse through each of the 12 grade levels. You'll see how I work through each level with a horse that has a "hot-blooded" temperament so you'll know what to do with your own horse when he or she gets excited or "too hot to handle."
VALUE: $600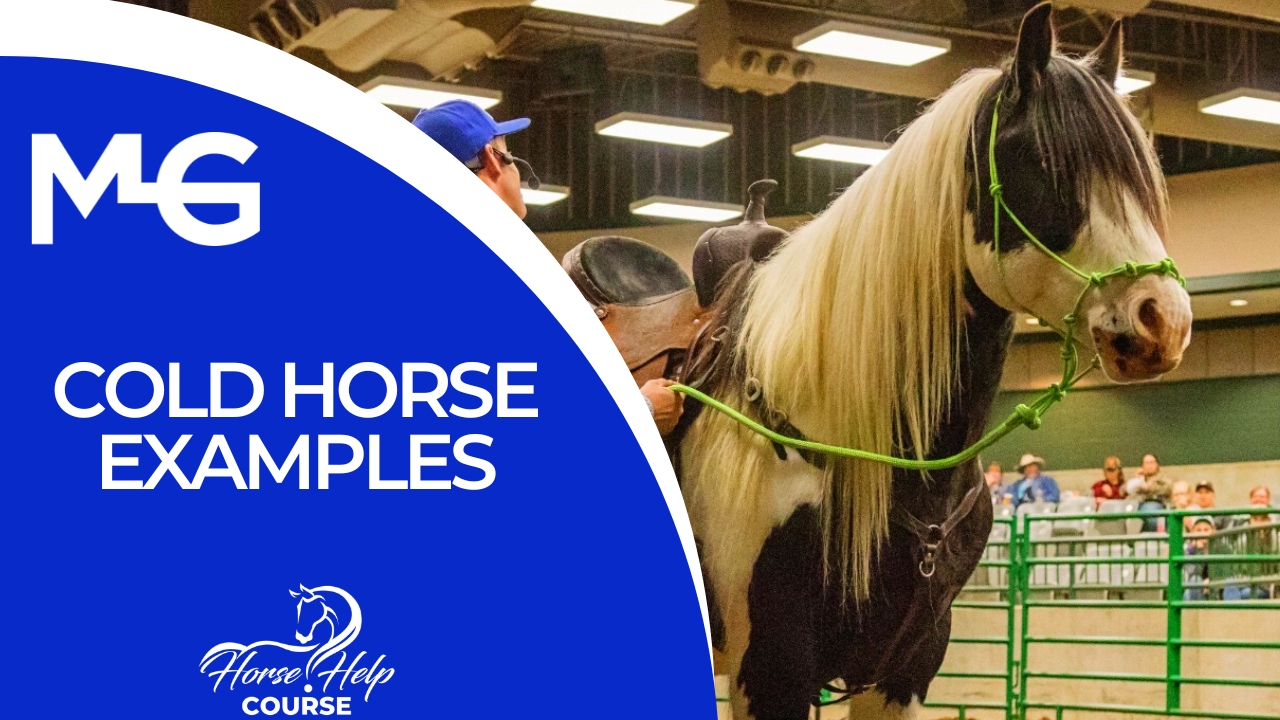 Watch A COLD Horse Go Through Each Grade
Is your horse cold and sometimes lazy? Watch me take a COLD horse through each of the 12 grade levels. Learn how to get him or her to move without feeling like you're doing more of the work than your horse!
VALUE: $600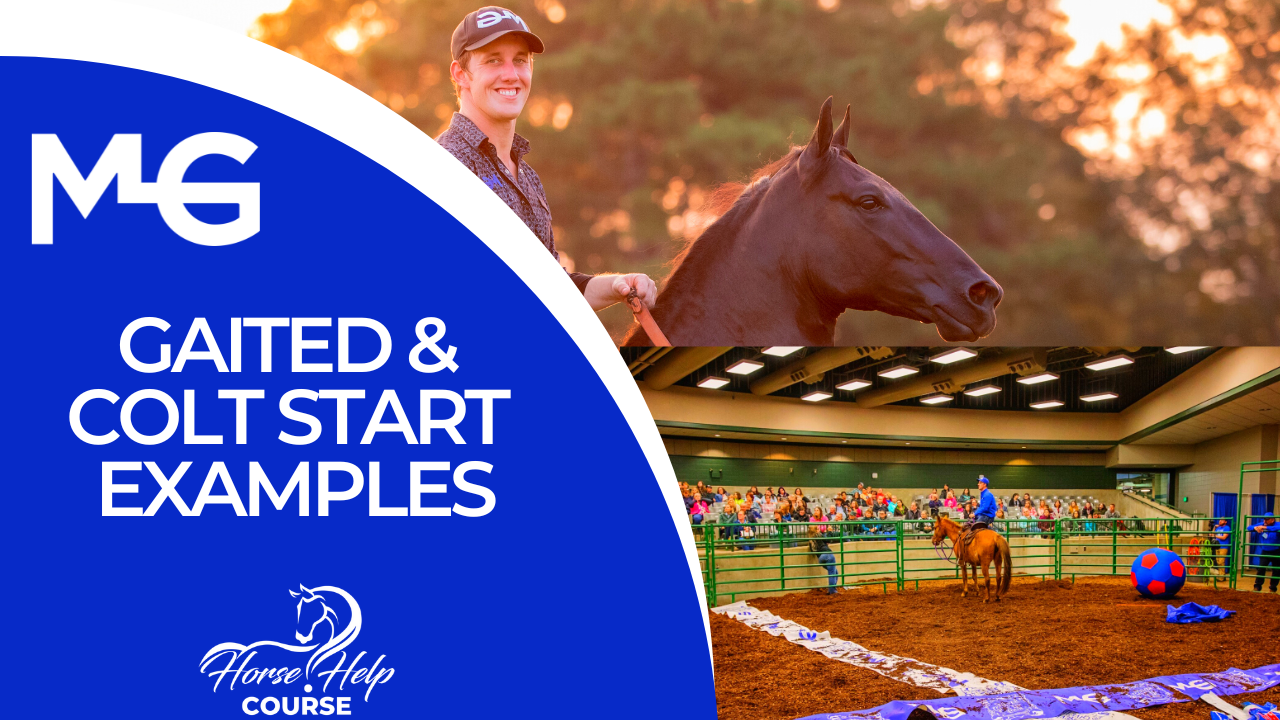 Colt-Start AND Gaited Horse Examples
My 12-step process is exactly what I use when I start colts for clients. It's also what I've been using for years as an award-winning gaited horse trainer. In this BONUS, you'll see examples of how I take each of these horses through school. As you'll see, this system works for EVERY horse and EVERY breed!
VALUE: $1,200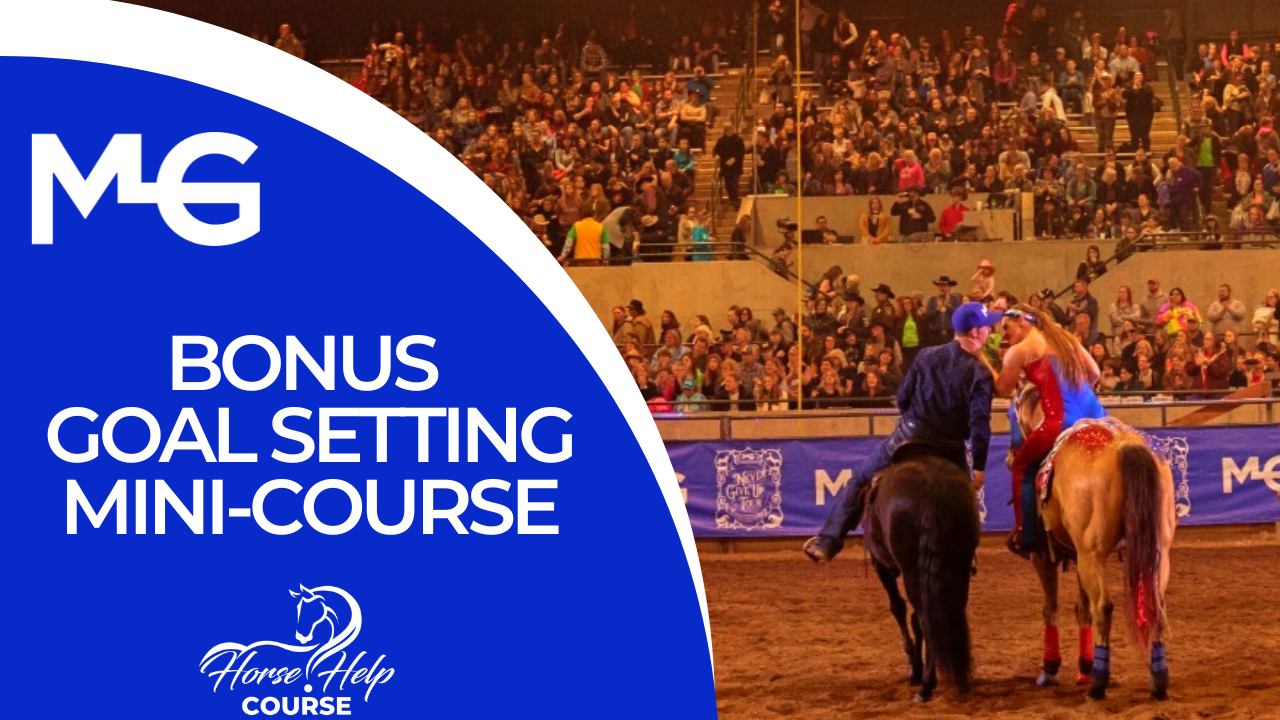 Goal Setting Mini-Course
The Goal Setting Mini-Course will include a quick-start guide and exercises to help you make a plan for your horse journey based on the timeline you feel comfortable with.
Kelsey will teach you the biggest factor in finding success is having the goals and plan in mind to MAKE IT HAPPEN!
VALUE: $600
Confidence Mini-Course
The Confidence Mini-Course will include searchable replays from the Confidence Coaching Week, additional support materials, and exercises to help you pinpoint where you're at now with your confidence->where you want to be->plus making the steps to get you there!
It's time to make a commitment to yourself and to your horse!
VALUE: $600
Total Value of BONUSES: $3,600!!

Total Value of THE HORSE HELP COURSE: MORE THAN $10,000!!

YOUR COURSE ENROLLMENT: $997
YOUR COURSE ENROLLMENT: $97 (Special rate – ENDING SOON!)
enroll in Horse Help course today!
Need MORE Hands-On Coaching With Your Horse?
WE HAVE OPTIONS (AVAILABLE AT CHECK-OUT) FOR YOU TO
SEND IN VIDEOS OF YOU WORKING WITH YOUR HORSE
FOR OUR LIVE VIDEO REVIEWS WITH MICHAEL EACH WEEK: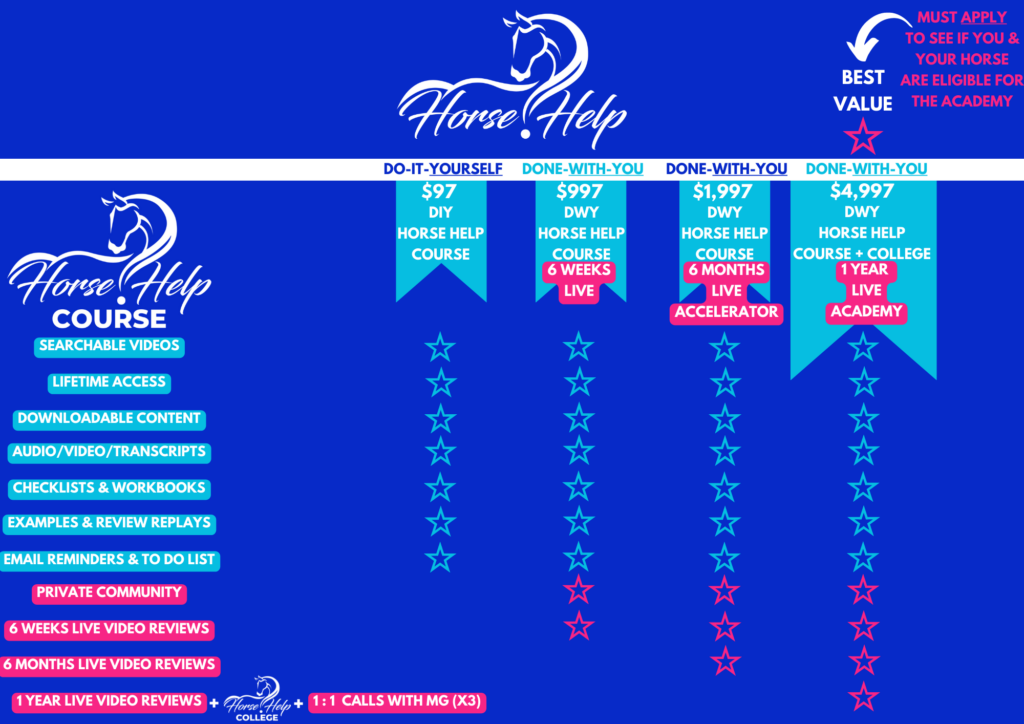 I WANT TO SEND IN VIDEO REVIEWS OF ME WORKING WITH MY HORSE
I WANT TO WATCH THE FREE REQUIRED MASTERCLASS & APPLY FOR THE ONLINE ACADEMY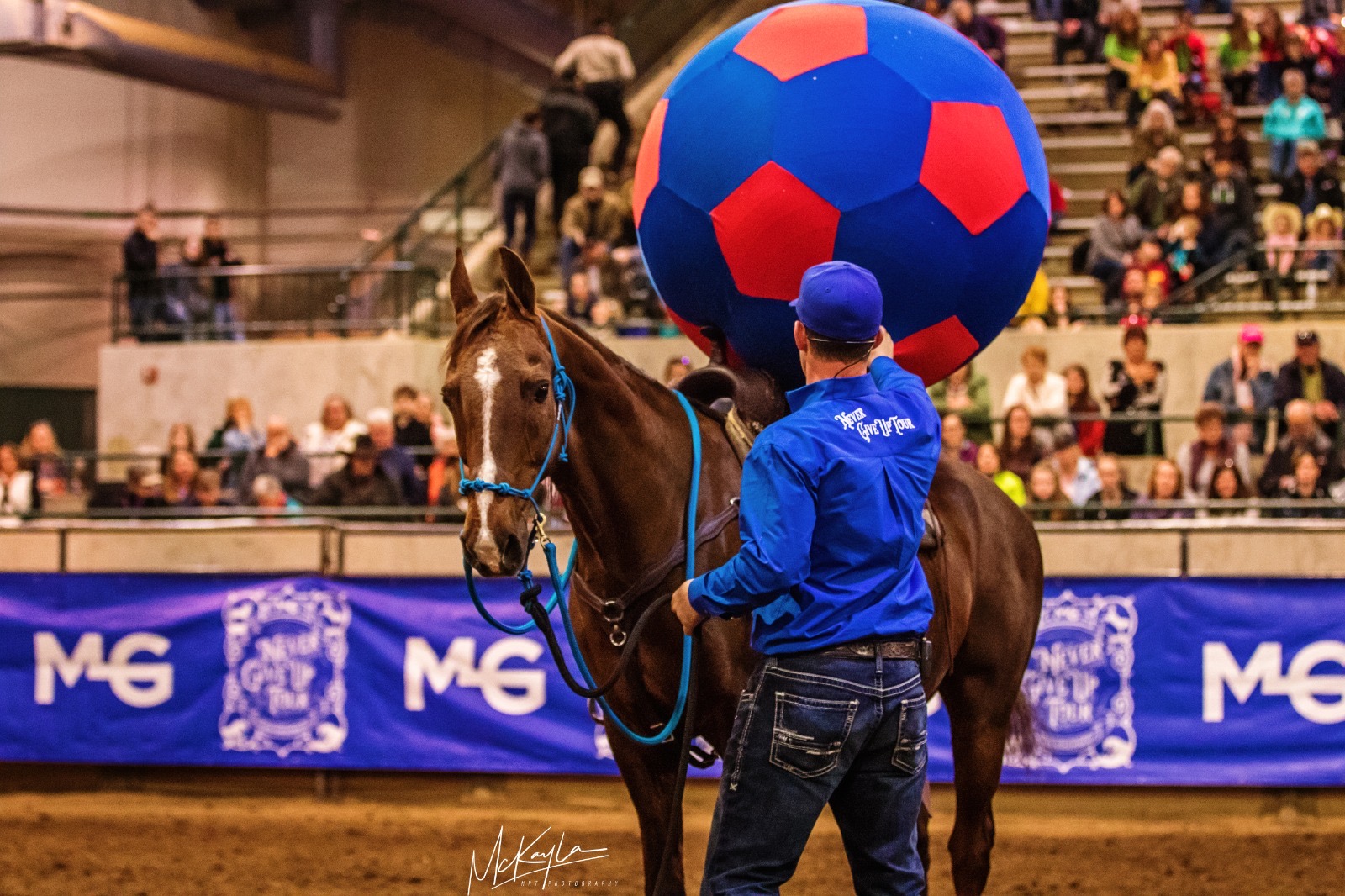 If you want to train your own horse, it all starts with getting his or her respect and attention.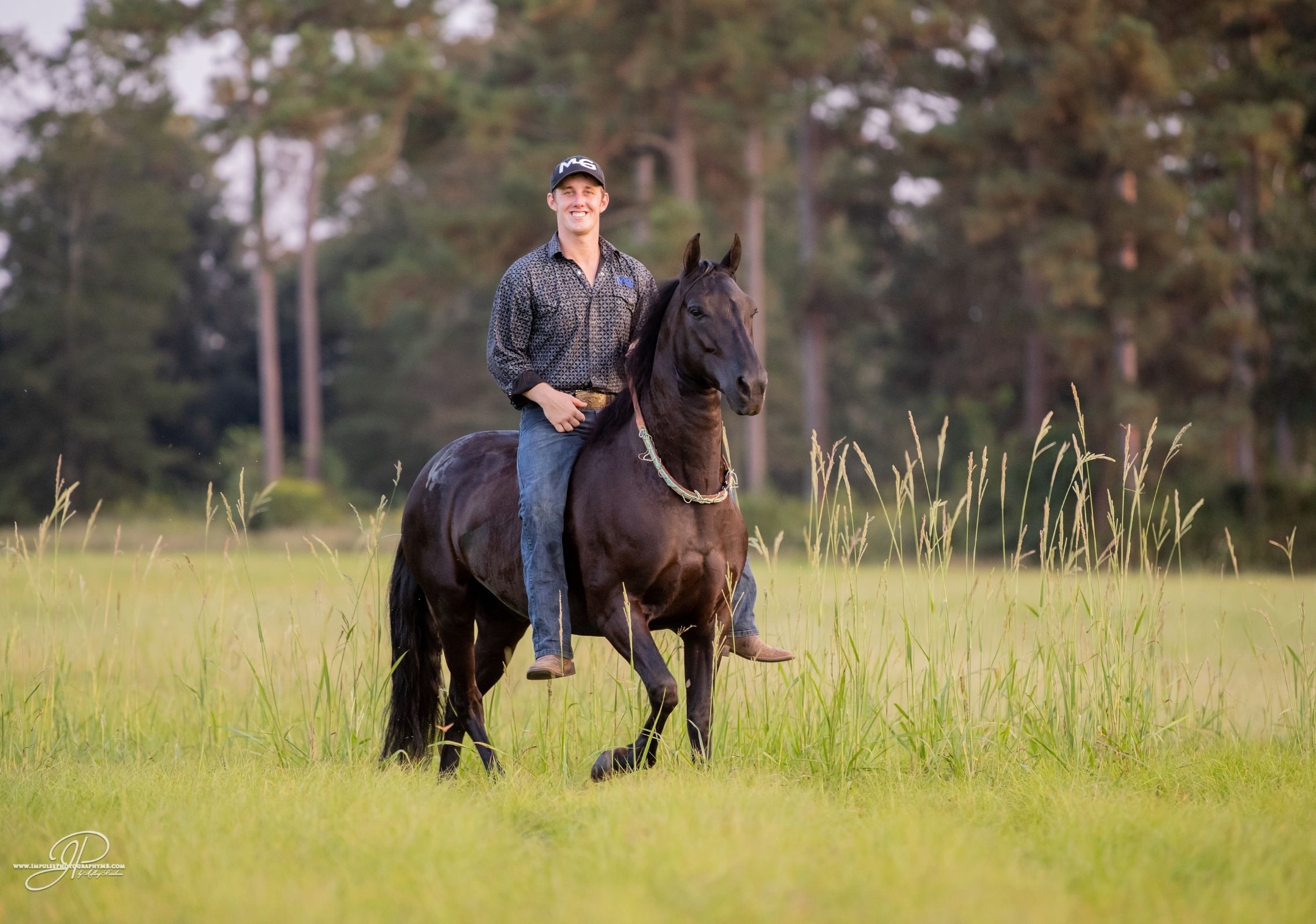 Hey hey, I'm Michael Gascon, the Horse Guru!
I've been all over the world and worked with hundreds of horses and people, and it always starts in the same place-you need to gain their respect and undivided attention.
You can have all the knowledge in the world. But, if you're not able to get your horse's respect and attention then you can't teach your horse anything.
That's why I'm taking the foundation for our training program and putting it into one course that will help you fix ANY horse problem and advance towards your goals. It's where I start with each and every horse that comes into my program.
If you're looking for a hands-on program that will teach you to train your horse to be a safe, reliable partner so you can have fun together and actually enjoy your horsemanship journey, Horse Help Course is for you.
I'll see you there!
Michael Gascon
The Horse Guru | Gascon Horsemanship
GasconHorsemanship.com
It Works! The Proof Is In the Pudding
(AKA These Horse & Owner Stories)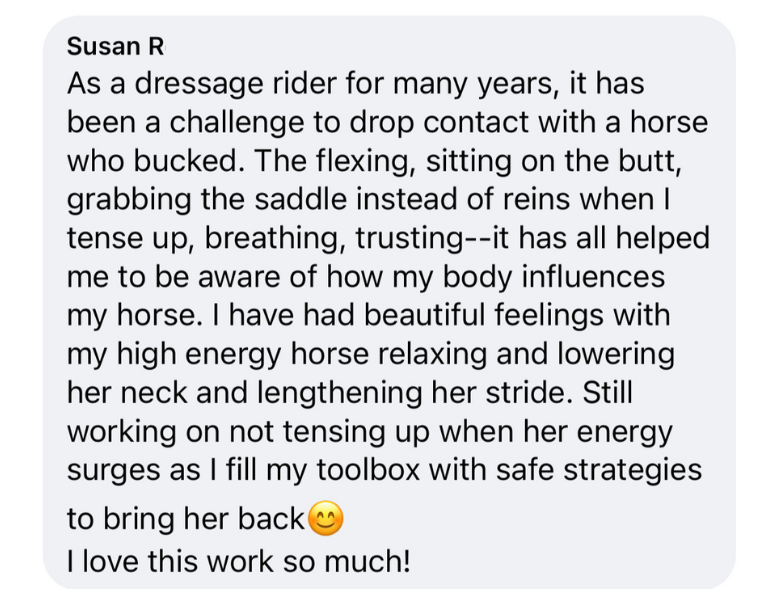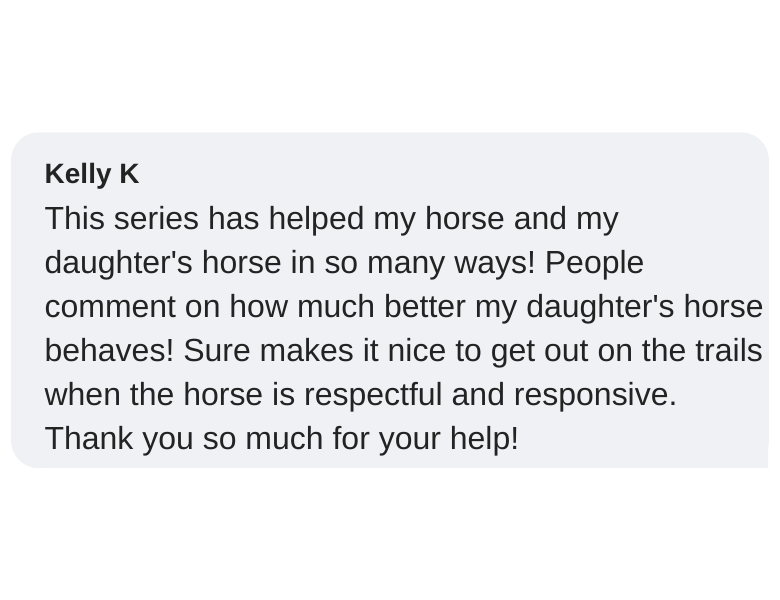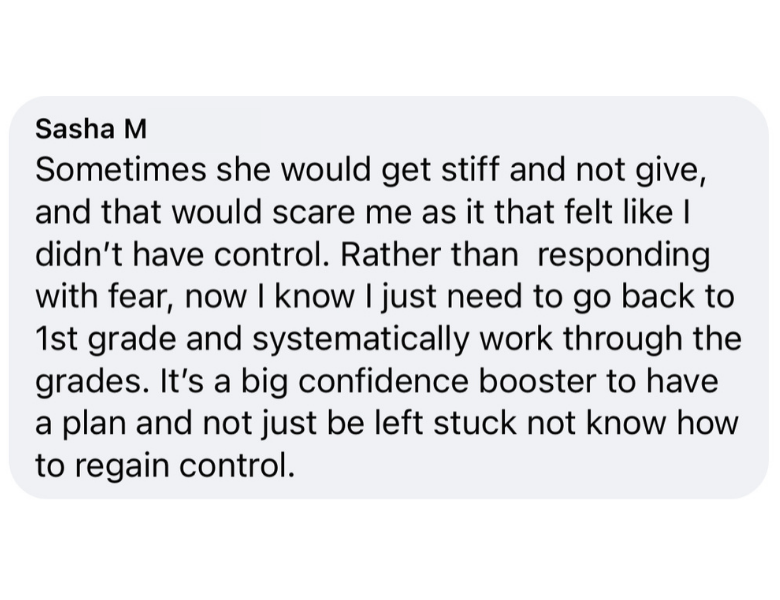 So, what's the breakdown?
We're going to start by going through each grade together!
Of course, as a Horse Help Course student, you'll have access to ALL of the material forever. But there's something powerful about learning-and apply what you're learning-as part of a community.
To help you make the most progress, here's what you can expect each week …
Week 1:Preschool
We'll start with free lunging over obstacles. You'll learn how to teach your horse to go over an obstacle with no lead attached to him without trying to come into your space or avoid the obstacle.
The goal here is for your horse to respect your leadership more than the potential fear of whatever obstacle is in front of him or her.
Week 2:Kindergarten & 1st grade
The foundation of my program is respect from your horse, and that's where we'll start in Kindergarten. You'll learn to get your horse to back out of your space without any physical pressure from the halter. He or she should also stop when you stop and back up when you ask to back up.
First grade is all about keep your horse's attention on you. As you lunge, your horse must walk a circle around you and look at you while giving you all of his attention. If you've ever wondered why nothing seems to change when you lunge your horse, this focus on attention will be a game-changer for your groundwork.
Week 3:2nd, 3rd & 4th grade
Now that you have your horse's attention, it's time to learn how to keep it, no matter what's going on around you. That's where desensitizing comes in!
You'll learn to desensitize your horse at a stand-still AND in motion. I'll show you how to make sure your horse is safe no matter what comes your way, whether you're on the ground or in the saddle.
After desensitizing, we'll move on to mounting! Because I know you want to be able to ride your horse, right? You'll learn how to make sure your horse will stand still for mounting and when you're in the saddle.
Week 4:5th, 6th & 7th grade
Remember how you wanted to feel in control on your horse's back so you can enjoy riding? Here we go!
Now that you're on his or her back, we'll focus on flexing which is really your horse's steering wheel.  From there, you'll learn how to get your horse to stop under saddle at a walk, trot, gait, and canter/lope. Plus, you'll work on softening your horse to the left and to the right.
Week 5:8th, 9th & 10th grade
It's time to work on how you control the different parts of your horse's body. When you learn how to do this, your confidence will skyrocket!
You'll learn the steps to getting your horse to disengage both the hindquarters and the shoulders with a specific cue and in motion. Plus, you will learn how to ask your horse to flex and give his or her head while continuing in motion under saddle. This will be key to steering and guiding your horse at all rates of speed.
Week 6:11th & 12th grade
Speaking of rates of speed, the final grades will focus on obstacles and speed transitions with your horse.
With speed transitions, the goal is to teach your horse self-carriage, holding his speed until you tell him to speed up or slow down.
My philosophy with obstacles is if you can't do them, then you shouldn't go outside. Because an obstacle is just anything the horse might 'think' is scary, from a wet spot on the ground to a change in footing. You'll learn how to get your horse to cross over any obstacle you put in front of him or her. How much safer (and fun) could it get?!
enroll today!
Your Questions Answered
How long will I be able to access the videos?
As a student you have lifetime access to the course and can complete it at your own pace and return for review whenever you'd like! 
We also have all of the live session replays from the course that are searchable within the course hub on-demand after you sign up. If you can't find the answers to your questions or end up feeling stuck in any way, please don't hesitate to reach out to us so we can help you!
What If I Need Longer Than 6 Weeks?
You have lifetime access to this course so don't worry if you can't jump right in or you need extra time with your horse. Some horses will fly through the grade levels and others will take longer, but you can do it at the pace you feel comfortable with.
What If I Need Extra Help From Michael?
We have a couple different options for additional help! You can choose the following Horse Help Course packages to add on live video reviews (you record yourself and your horse and get live feedback from Michael each week).
DIY Horse Help Course $97 (Access To Learning Videos Only)
DWY Horse Help Course $997 (6 Weeks Of Live Video Submissions)
DWY Horse Help Course Accelerator $1,997 (6 Months Of Live Video Submissions)
Horse Help Academy (Must Apply) $4,997 (1 Year Of Live Video Submissions With Lifetime Access To The Horse Help Course & Horse Help College)
You can choose one of these options at check-out or let us know via email if you want to upgrade once you've gotten started!
What Supplies Do I Need?
Rope Halter & Lead Rope – It doesn't have to be an official MG halter, but I don't recommend going through the course or applying these training methods using a flat or leather halter. They don't allow the same type of pressure or control that you'll get with a rope halter.
Reins – Preferably with snaps to attach in order to make things easier for you.
6'x8′ Light Duty Tarp – Easy to pick up at Walmart or hardware store.
Flag Stick DIY Supplies – 4′ Land Marker Stick (Lowes/Home Depo), A Plastic Feed Sack, & Electric Tape
Computer, Phone, or Tablet – You can view the videos in our course platform using a desktop computer, laptop, tablet or your phone. Thank goodness for mobile-friendly, right?! 
Tripod For Phone Or Camera (Optional) – You can get these cheap on Amazon and they will allow you to be able to record yourself without having to have a second person to help you film. 
Your Willingness to Dig In & Apply What You're Learning – The more you engage, ask questions, and take action, the more you can expect to see results! 
Do I have to have Facebook?
No! The recordings are located in your Horse Help Course hub from the live streams replays, video submission feedback sessions, and Q&A sessions. However, you also have access to a private Facebook group so you can join our community and have fun networking with other horse men and women just like you! 
Once My Horse Has Passed The Horse Help Course, How Do I Get Into The Horse Help College?
Once you are signed up for the Horse Help Course, you will have many chances to enroll in the Horse Help College. You can do so right away or wait until you've completed the Horse Help Course. However, you must have signed up to do the Horse Help Course in order to get access to the Horse Help College. If you think your horse is ready for college, you should be able to pass the Horse Help Course easily and begin right away. 
How Do I Apply For The Horse Help Academy?
The Horse Help Academy is the total package of support from our program including lifetime access to the Horse Help Course, the Horse Help College, and 1 year of video review submissions to help you along your horse training journey. You must apply and be accepted into this program by first watching this FREE webinar to make sure it's a good fit for you and then booking a call with us to discuss you and your horse's needs. APPLY HERE
SEE YOU inside the course!
enroll today!
 COPYRIGHT © 2023 THE HORSE GURU® – MICHAEL GASCON